February 12, 2018 |
Megan Creed
For those who celebrate Valentine's Day, it offers a full 24 hours to overload your significant other with affection, treats, and gifts. Who doesn't want to be showered in love? For the more laid-back couple who prefer coming home after a long day of work and relaxing over a nice meal, this post is for you! A romantic night in eating dinner by the candelight and having a good old-fashioned conversation with your S.O. is just what the doctor ordered (in my opinion of course!) If you need a little help getting started you've come to the right place.
---
dinner pairing ideas
First, you will need to plan a meal. I have a meat option as well as a vegetarian option that will pair perfectly with a bottle of Milagro wine. Choose a recipe, add these ingredients to your shopping list, and make sure you have a bottle of wine handy!
Slow-cooker red wine beef stew
We can all agree that red wine makes everything better. This recipe can serve 8, so you can enjoy some with your honey after Valentine's Day as well.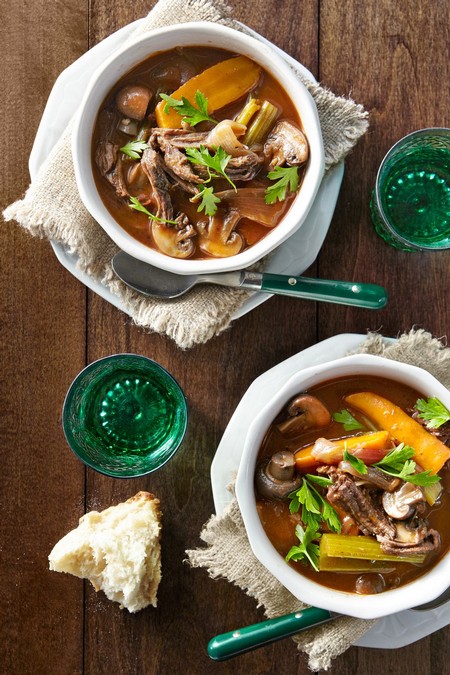 What you'll need:
(2) cups beef stock
(3) tbsp. all-purpose flour
(2) tsp. Dijon mustard
(1) lb. carrots, cut into 2-inch pieces
1 (8-ounce) package cremini mushrooms, halved if large
(1) large red onion, cut into wedges
(2) large celery ribs, cut into 2-inch pieces
(4) cloves garlic, chopped
(6) sprigs thyme
(1) tbsp. canola oil
(3) lb. pot roast, trimmed and cut into 4 pieces
Kosher salt and freshly ground black pepper
(1/4) cup tomato paste
(1) cup dry red wine - Cab Sauv, Cab Franc, Ballena Rojo anyone?
(1) tbsp. unsalted butter
Chopped fresh flat-leaf parsley, for serving
Once you've done your shopping you'll need 20 minutes to prep before letting it cook for 7-8 hours. Prepare in the morning before work and come home to a meal waiting to be served!
Directions:
Whisk together stock, flour, and mustard in a 6-quart slow cooker. Add carrots, mushrooms, onion, celery, garlic, and thyme; stir to combine.

Heat oil in a large skillet over medium-high heat. Season beef with salt and pepper. Cook, turning occasionally, until browned on all sides, 10 to 12 minutes. Remove to slow cooker. Add tomato paste to skillet and cook, stirring, 1 minute. Add wine and cook, scraping up browned bits, 30 seconds; add to slow cooker.

Cover and cook until beef is tender, on low heat 7 to 8 hours or high for 5 to 6 hours.

Discard thyme. Remove beef and shred with 2 forks; return to cooker. Stir in butter.

Serve topped with parsley.
Nutrition Facts Per Serving:
protein: 39 g; fat: 27 g; carbohydrate: 14 g; fiber: 3 g; sodium: 262 mg; cholesterol: 144 mg; calories: 477.
bucatini with winter pesto & sweet potatoes
For all of my fellow vegetarians, this recipe is sure to make it's way into your weekly dinner rotation. Pair it with a glass of Milagro Rose or Chardonnay.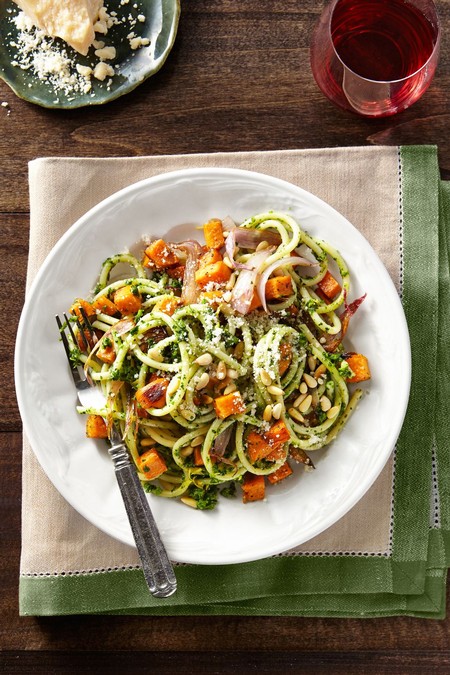 What you'll need:
(1) large sweet potato, peeled and cubed
(1) medium red onion, cut into wedges
(1/3) cup plus 2 tablespoons olive oil, divided
Kosher salt and freshly ground black pepper
(4) cups torn kale, collards, or mustard greens
(1/2) cups fresh flat-leaf parsley
(2) oz. grated Parmesan cheese (about 1/2 cup), plus more for serving
(1) clove garlic
(2) tsp. lemon zest, plus 1.5 tablespoons lemon juice
(12) oz. bucatini
toasted pine nuts, for serving
With preparation time about 20 minutes and cook time about 20 minutes, this dish will be easily prepared in no time!
Directions:
Preheat oven to 425°F. Toss together potato, onion, and 2 tablespoons oil on a rimmed baking sheet. Season with salt and pepper. Bake, stirring once, until potato and onion are tender, 24 to 26 minutes
Meanwhile, place kale and parsley in a food processor. Pulse until chopped, 4 to 5 times. Add Parmesan, garlic, lemon zest, and juice. Pulse, scraping down the sides as needed, until finely chopped, 10 to 12 times. With the machine running, slowly add remaining 1/3 cup oil through the feed tube. Season with salt and pepper.

Cook pasta according to package directions, reserving 1/4 cup pasta water before draining. Toss pasta with roasted vegetables, pesto, and pasta water.

Serve topped with Parmesan and pine nuts.
Nutrition Facts Per Serving:
protein: 17 g; fat: 30 g; carbohydrate: 80 g; fiber: 6 g; sodium: 289 mg; cholesterol: 12 mg; calories: 657.
---
date night at home
Now what will you do since you've cooked, talked through a meal, and had a couple glasses of wine? After you agree to put away the cell phones and give each other undivided attention, I have a few ideas for you to spend a night at home together.
Netflix: Choose a classic you both love or a film neither of you have ever seen. Getting tired of watching movies? Start a new series and make a pact to not watch it without each other.
Boardgames: Scrabble, Jenga, Sorry... the choices are endless. Plus, some good old-fashioned competition is always fun.
21 Questions: Even if you're married, there may be things you still don't know about each other. Ask each other easy questions - "What's something silly you're afraid of? Have you ever broken any bones? If you could choose any career what would you choose?" Then you can ask each other harder questions - "What are you most grateful for in life? Is there something that you've dreamed of doing for a long time?...Why haven't you done it? If you were to die this evening with no opportunity to communicate with anyone, what would you most regret not having told someone...Why haven't you told them yet?
Eat More: After you've settled from dinner, get ready to fill your belly even more with dessert. Chocolate fondue, chocolate-covered strawberries, strawberry shortcake, ice cream sundae, girl scout cookies...Hungry yet?
---
I hope your mind is swirling with ideas now. Skip the busy, expensive restaurants and stay at home to spend quality time together.
Recipes courtesy of CountryLiving. Visit their website for even more ideas!
Happy Valentine's Day from ours to you and yours.